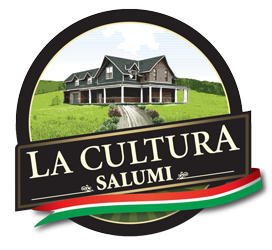 Proud Craftsmen of Air-dried Meat
We are getting our on-line store ready for you.  In the meantime, click here to contact us and we will be in touch right away, to make sure you have the chance to experience our salumi.
LA CULTURA SALUMI PRODUCTS
There is an Italian phrase, "Come una volta", which means, "as once."
To us,  "come una volta" means using time-honoured Italian air-drying techniques, just as they once were.
Our products marry traditional Italian recipes with the best ingredients to be found.
We perfected our technique by working alongside the Italian masters.
We trial, taste and test our products until we are satisfied that you will be thrilled.
All of our products are fresh air dried in temperature and humidity controlled rooms, using top quality equipment.  Maintaining and exceeding stringent health & safety standards are the foundations of our dry aging process.
We regularly scour the globe – and our local farms- to find the best meat for our products
All of our suppliers raise their livestock to our stringent specifications
We use our own animals from our farm in Quebec. Our herd is raised with no growth hormones